Part 3..
Part III
The Enlightened End
The Deathly Void
Flames are seen, in a cave filled with lava. A deep voice.. begins to grumble.
Voice of Sauron:
You cannot hide. I see you. There is no life in the void. Only death.
BLACK
London..
Intelligence and Security Committee Court Room..
Mallory sits a desk, unhappy to be present. A number of his peers are seated on higher desks, across from him. Mallory is on trial.
Male Speaker:
Is is true, Mr. Mallory, that while you were running MI6, a known terrorist was able to crash a plane into MI6 headquarters? And that the terrorist in question, had slipped under your radar? Is it true you let this known terrorist operate abroad, under your watch?
Mallory:
*leans into microphone*
​The attack is public record. In terms of the terrorist, I assume you mean Dru Zod, who we later discovered goes by the legal name Olon Blacksoul. We, or myself, did not have any idea who Zod was, or what he was planning. Frankly, he was out of our jurisdiction. We did successfully thwart a rebel terrorist known as Sumonsar, months prior.
Male Speaker:
​Mr. Mallory, excuse me for being blunt.. but we don't really give a bloody damn about what you did months prior. What we do care about, is how you single-handily watched an entire agency collapse under your watch. Not to mention, you hired an agent with extreme criminal activities on his record.
Mallory:
If you are talking about Former Agent Zarano, I can assure you the risks were minimal, compared to the benefits. He is the one who stopped Sumonsar.
Male Speaker:
So he stopped Sumonsar. Not you?
Mallory:
...
Male Speaker:
No further questions.
Out at sea..
Rain is pouring down, as the winds blow hard, and thunder rumbles.
Then..
Voice of Alastor:
CANNON FIRE! We're...
Before Alastor can finish, a round of loud explosions is heard. The ship is under attack.
Nick can't believe what he is seeing.
Nick:
It's like I'm back in the sixteenth century.
The ship begins to roll, as Quanela passes by Nick on deck.
Quanela:
Grab onto something! The island is just yards away. The guardsman are just trying to kill us before we get there.
Nick:
That's comforting.
Then, as Nick turns around.. he sees a massive tidal wave coming.
Gondien:
Brace yourselves!
Nick:
GET BELOW DECK! NOOOOOOWWWWWW!
It's too late. The massive wave tosses Nick, and most of the Fellowship overboard. It also causes the ship to turn on it's side, and begin sinking into the chilly waters below.
Nick opens his eyes.. he's underwater..
He stares off into the light.. and loses consciousness.
BLACK
Weak Male Voice:
You.. can not die, my son.
Nick's eyes flicker open. He has awakened.. to the voice of his father, Tom Riddle. Nick looks around.. and sees mostly darkness. A cell of some sort.. with wet dirty floors, moaning voices, and the sound of water dripping.
​No sign of Tom. Nick's mind, must be playing tricks on him. Nick stands up.. very weakly. He walks over to the cell bars, and looks out. Across from his cell, is another cell.. he squints, and notices a woman standing up against the bars.. she is partially naked. Nick tries to remember who she is..
Nick:
*weak*
.. Anna?
Anna:
Hello Nick. You're finally awake. They brought you in hours ago.
Nick:
You're.. alive?!
Anna:
Me, Danny, and Alfred. It's been a long time.
Nick:
Where the hell have you been all this time?
Anna:
First, we were held captive by Sumonsar. Then someone named Silva, then Zod, and now I'm thinking someone else is behind all of it..
Nick:
Sauron. I can't believe you.. and the others.. are alive.
Anna:
We've been in the darkness for a long time.. I don't even know what daylight is anymore.
Nick:
Anna, we'll get out of here.. I came here with help. And they have, to be somewhere..
Unknown Location on Isla Sirena..
Gondien, Alastor, and Eurus open the massive doors of a castle. They walk down a hall. Alastor casts a spell, and uses his staff as a glowing flashlight.
Gondien:
We have to find Blacksoul, or one of Sauron's other commanders, before we can reach Sauron himself.
Eurus:
What about the others?
Gondien:
Hopefully we will find them along the way. But I'm guessing they ended up on a different side of the shoreline.
Alastor stops.
Eurus:
What is it?
Alastor points to the floor.. where a trail of blood leads down the hall.
Gondien:
Blood.
Eurus:
Should we follow it?
Gondien nods. Slowly, the group makes their way down the hall, following the blood trail.
​It leads them into a dark room.. a bedroom. When Eurus glances at the bed, she immediately looks away in disgust, grabbing her mouth.
Gondien approaches the bed.. it's covered in blood. Laying on the bed, is the body of Emily. Eyes wide-open. An emotionless Gondien places his hand upon Emily's face, and closes her eyes.
Alastor:
What sick bastard would do this to a teenage girl?
Gondien examines the body.
Gondien:
​... A sick psychopath by the name of Franco. He's alive. And he's here.
Alastor looks past Gondien, and sees that "CO77x" has been carved into Emily's neck.
Male Voice:
Correct. I'm right here.
The group turns around, and sees Franco standing in the doorway, holding his bloody hunting knife.
Franco:
What a pleasure to see you Gondien. And you two. Did you look at my princess? She's pretty, isn't she? She's all mine now. And soon, her adoptive mother will look just like her.
Gondien:
Where's Frodi?
Franco:
Someplace.. cold. Like the rest of this hellhole.
Eurus takes out her wand.
Franco:
Oh come on, are you really going to attack me with..
Eurus:
Extracious!
Franco is knocked out instantly. Eurus relives some of Franco's recent memories. When her eyes open..
Gondien:
Eurus! What did you see?
Eurus:
​He.. he killed her. In a gruesome way. And Frodi.. I.. I think he locked her in a room. It was.. a room with a large, brown door.
Alastor:
You two go look for Frodi. I'll handcuff this son of a bitch.
Gondien and Eurus leave the room. Alastor drags Franco's body into the hall, and then takes out restraints from his pocket. He cuffs Franco's hands, and legs.
Alastor:
Try to run down, demented freak.
​Down the hall, Eurus and Gondien search for the brown door. Finally, at the end of the hall.. they spot a room with a large brown door. Naturally, it's locked.
Gondien smashes the locks with a spell, and opens the door.
The room is pitch black.
Eurus lights a torch using a spell.. and in the corner of the room, they spot something.
Gondien:
Frodi?
Eurus:
No, but I see another door.
Eurus walks over, and opens the door.
Inside a small room, is Frodi, and her children. Alive, awake, and well.
Eurus:
I found them!
Michael:
Thank god! Now where's dad?
Frodi jumps up, and hugs Eurus.
Meanwhile..
Nick:
OPEN THE GODDAMN CELL DOOR, OR I SWEAR TO GOD.. I WILL KILL YOU ALL WITH MY FUCKIN' BARE FUCKIN' HANDS!
Anna:
It won't work.
Voice from a distance:
Nick.. Nick, is that you?
Nick:
Alfred?
Alfred's Voice:
Oh thank god, you've come for us! What took you so long?
Nick:
I thought you were dead! And.. any ideas on how to get the hell out of here?
Voice of Danny:
Nick.. thank god you're here.
Outside..
Gondien, Eurus, Alastor, Frodi, and the kids are standing outside the castle. Franco is laying on the pavement like a sack of potatoes.
Gondien:
Nolan Ross was in contact with Interpol, and other agencies. He said that helicopters would be sent here, to pick up those who need to be picked up, and reinforcements would come. I suggest you, and the kids go.
Frodi:
No. I'm not leaving til we find Nick.
Gondien:
*looks at Eurus*
I tried.
Frodi:
But they can take the kids to safety. It's too dangerous here.
Frodi looks at an unconscious Franco, wishing she could kill him herself. But with the kids there, she says nothing. Everything will have to be explained at another place and time. Right now, it's too chaotic.
Gondien:
Any ideas why they took you and the kids?
Frodi:
I'm assuming, we were bait. To lead Nick right into a trap.
Meanwhile..
In the jail, Blacksoul is seen walking down the water-stained path. He walks to Nick's cell, and stops in front of it.
Olon:
It's time. Sauron wishes to finally see you. Come with me.
The cell door opens.
Nick is handcuffed by Blacksoul. The others watch, as Nick is brought out of the jail.. and into the light.
The faint sound of helicopter motors are heard.
Anna:
... Danny? Alfred? Do you hear that?
Then..
BOOM
The once dark jail is now filled with daylight. A large hole has been blown into the underground jail. Members of the Interpol special forces, and various agencies fill the jail.
Anna:
*crying with happiness*
Over here! Over here! My name is Anna! I'm a former agent!
Meanwhile..
The kids are being loaded onto a helicopter outside. Frodi kisses each one of them.
Rosie:
I don't want to leave you mum!
Frodi:
It's okay sweetie, it's only for a few hours, until your daddy and I can see you. Just listen to what Auntie Eurus tells you to do, and you'll be fine.
Frodi smiles at Eurus, who is going with the kids to protect them, and make sure they are okay back in Sein Dor.
Michael:
I want to stay here, and help you find dad!
Frodi:
No Michael, you know you can't. It's too dangerous.
Lilla:
Is that... Anna?
Frodi turns around, and sees a very dirty Anna, Danny, and Alfred being to the medical helicopter.
Frodi:
They're alive!
Unknown Location on Isla Sirena..
Blacksoul shoves Nick into a room, and locks the door. The room echoes very loudly. Slowly, Nick walks through the empty room.. searching for any sign of life.
Nick:
Sauron?
The door opens once again, and Blacksoul enters. This time, appearing cocky and angry. He is carrying a bow.
Olon:
No, not Sauron.
Olon throws the bow at Nick's feet.
Nick:
... What the hell is this?
Olon:
​Your only source of protection. You see, you have something I desire. The ring. My guess is, Sauron is just going to order my assassination, like he did Silva's, no matter the lies Silva tells.. the hit was ordered by Sauron. He backstabs everyone. Needless to say, there is no meeting with Sauron. This meeting is between us.
Nick:
You're going to kill me.. for the ring?
Olon:
​So I can have true power? Yes. That, and killing you will earn me some respect with Sauron.
Nick:
You do realize Silva has the third object..
Olon:
I don't need it. All I need, is the ring. So for a fair fight.. try using the bow.
Nick looks at Olon. He slowly bends down to pick up the bow, but instantly Olon uses a hand motion to throw Nick across the room. Olon walks towards him.
Olon:
No magic, no match for me.
The door is heard opening, but no one notices it open.
Olon:
Time to end your miserable existence.
Olon shows anger in his eyes, as he tries to shock Nick with electricity. But, Nick holds out his ring.. and a shield of magic protects him.
Olon:
Well.. that ring is more powerful than I thought. I'll have to try killing you the old fashioned way.
Female Voice:
Good idea.
Olon turns around, and sees Frodi.
Olon:
You?
Nick:
*surprised*
Frodi?
Frodi:
Me.
Olon:
A fellow hobbit. Why don't you lower the bow?
Frodi:
Why don't you rot in hell?
Frodi fires the bow, shooting Olon in the chest.
Olon drops to his knees in front of Frodi. Nick's eyes widen.
Frodi:
Time to end your miserable existence.
Frodi fires again, shooting Olon in the stomach. Quickly, Nick rolls across the floor, and rips the Triforce off Olon's neck. The color fades from Olon's face instantly..
Frodi:
Is he.. dead?
Olon takes his last breath.
Nick nods. Olon Blacksoul, is dead.
ONE HOUR LATER..
Nick is standing on the hillside of the island, overlooking the ocean. It's windy, and getting dark. Frodi stands next to Nick, her arms around him. Gondien stands in back of them.
The entire island, is filled with helicopters, agents, and members of various agencies. Evidence is being collected, and the island is being examined.
Gondien:
My fear has been confirmed Nick. Sauron is not here.
Nick doesn't turn around.
Nick:
It was too easy. Let me guess.. he let his own men die, to save his own ass?
Gondien:
​That is one way to put it, yes. He knew we were coming. So instead of facing us, he let us take down his entire empire on this earth. I also have heard reports from the underworld, that order has been restored. Sauron backed down, after we took possession of the Triforce.
Nick:
So I assume that means you are staying?
Gondien:
Yes. All of us. We have been granted life.
Frodi turns around.
Frodi:
Congratulations Gondien. Not just for you, but for Bing and Alessea. And my brother! I can't wait to see him, when we go back.
Frodi has been told about Sabag, just as Nick knows about Emily.
Gondien:
Nick, we all know Sauron will return. Just as he has for hundreds.. if not thousands of years. He never shows his face, but instead hides behind others. But those objects.. the ones you are holding.. they give him power.
Nick:
... The thought of keeping the ring, and giving Frodi the Triforce.. has crossed my mind.
Frodi rubs Nick's shoulder.
Gondien:
Both of you can't live forever. None of us can. And those objects.. only give too much power, to hold.
Nick:
... I know. Which is why right now, they are at the bottom of the ocean. Where no one can find them.
Gondien looks down, and smiles. Nick must have thrown them into the ocean.
Gondien pats Nick on the back.
Gondien:
​The war is over. And with the deconstruction of this island, the Illuminati will be destroyed.
Nick:
... And the enlightened ones will be gone.
Frodi:
And Franco will finally go to prison, and rot in a cell. Like he deserves.
Gondien:
We found Anna, Danny, and Alfred.. we saved Sein Dor, each other.. and the world at large. Including the underworld. Now I think it's time to head home. We ended this war. And Nick, thanks for the help.
Gondien puts out his hand.
​Hesitantly, Nick shakes it.
Gondien walks away.
This song plays.
Nick and Frodi resume looking out at the ocean, in each other's arms. Nick touches Frodi's bump.
Nick:
It's over.
They kiss.
We see Nick and Frodi on the cliff, as the island of Isla Sirena is being deconstructed behind them.
BLACK
THREE DAYS LATER..
Sein Dor..
As the song Home Again plays at Emily's funeral, the Zarano family stay close together. It's a beautiful ceremony out in the woods. Bing, Alessea, their children, Anna, Alfred, Danny, Nolan, Kim, Sabag (mostly healed), Gondien, the remaining members of the Fellowship, Mallory, and even Sherlock are there. Along with plenty of other people.
For the Zarano's, life can finally be normal. The Illuminati conspiracy against Nick Zarano is over, after all these years. And from the ashes, they plan to rise. Right now, the family is staying in the Sein Dor Hotel. But they have possible plans on moving into the beach house for now. Nick plans on surprising Frodi, with the idea of building their dream house, thanks to Nick's new job at NolCorp. For now, the Zarano's won't need extra income, thanks to the job. So Nick plans on letting Frodi decide if she wants to open a shop again, rebuild, do something else, or be a stay at home mom. Nolan is willingly to provide the family capital, if Frodi wants to open a shop.
Meanwhile, Bing and Alessea are enjoying life with Gondien, and Alessea's brother. Both have moved in, and now everyone lives together.
Mallory was cleared of his charges in the UK, and has moved to Sein Dor. He plans on opening a private investigating agency with Anna.. and another old face who is moving his entire family to Sein Dor: Sherlock. Soon, the Sherlock-Watson-Mallory Private Investigating agency will be a reality. Oh, and yes, Anna's last name is Watson.
Danny has joined the Sein Dor Police, and will be working with Nolan on making Sein Dor safer. Meanwhile Nolan has begun dating Kim, and both will be staying often in Sein Dor, with their new branch of NolCorp opening there.
Alfred has retired in Sein Dor, and it's unknown what ventures he might get involved in.
Meanwhile for Franco, he faces a long.. long time, behind bars.
As for Silva's whereabouts, and the third magical object.. gone without a trace.
Unknown Location..
Todd is walking free, through the streets of a city. He is wearing normal, but dirty clothes.. and he has bruises and scars on his body.
Male Voice:
Imprisoned behind these walls, gang leaders are fighting a bloody war in the middle of our once great city. Every inmate from Shutter Island and Riker's Island has been relocated to this facility. How can this be safe for the people?
Todd looks up, at the city in front of him.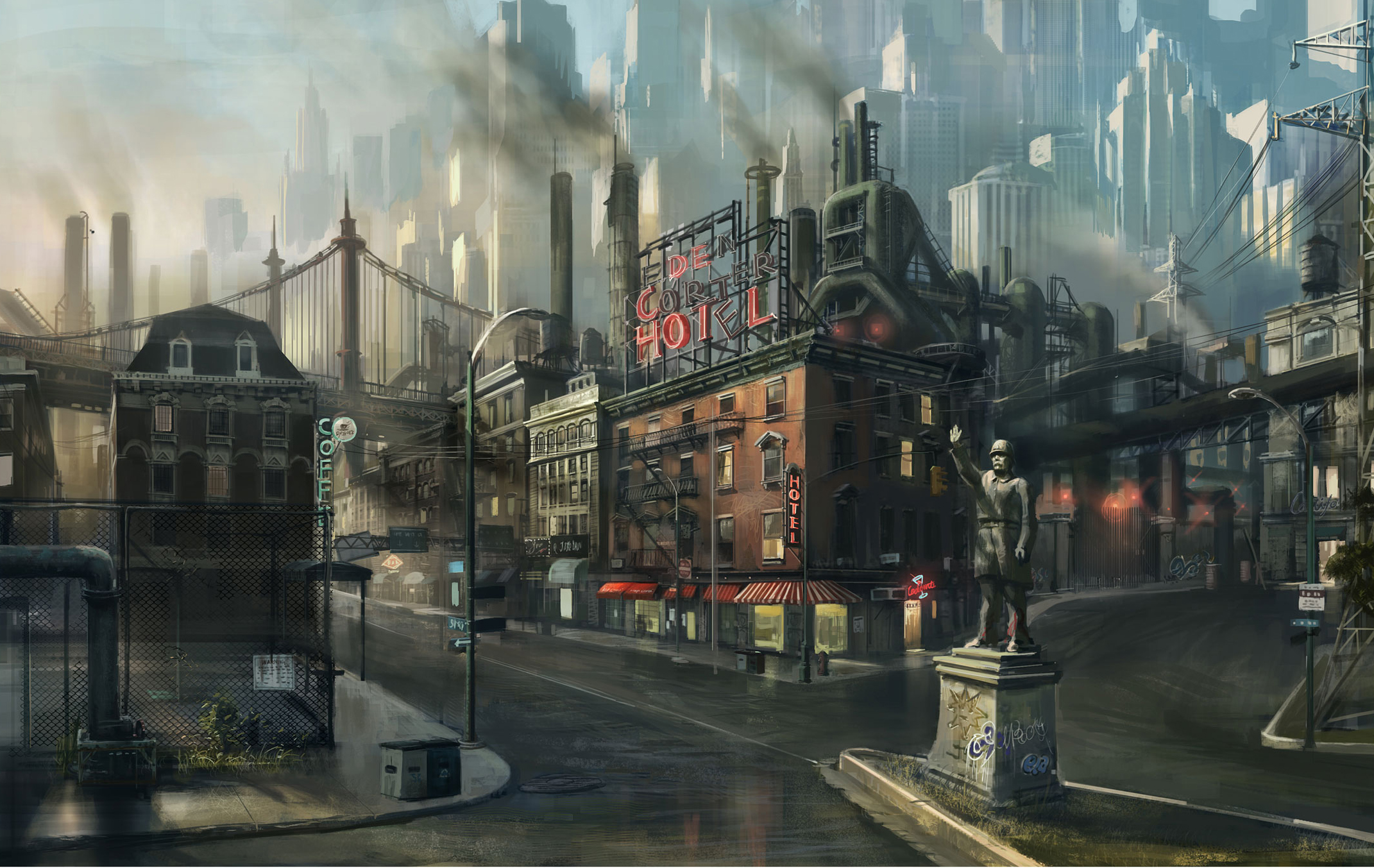 As Todd walks down the street, a guard passes by.
This is a prison.. like no other.
Todd walks into a room, filled with other inmates. They instantly clear the way, letting him pass by.
The other inmates fear him.
Inmate:
Mr. J, I hear an old friend of yours is coming in today. Guess who?
Todd:
Who?
Inmate:
Guess.
Todd:
WHO?!
​The inmate worriedly takes a step back.
Inmate:
.. Rob Frank.
The men leave the room, giving Todd some space.
Todd walks into what is supposed to be his "cell", and opens his locker.. he takes an item off the top shelf.. and holds it. As the sun shines through the window, we can see Todd is holding a mask.. a clown mask.
Todd walks out of the room.
Todd:
And here.. we.. go.
Todd puts on the clown mask, and walks down the street.. his fate becoming clear: he has become, The Joker.
NEXT DAY..
Sein Dor..
Frodi awakens next to Nick, and smiles. Is this finally going to be their life? One without a crazy adventure.. crazy people.. or crazy.. well, I actually she enjoys the crazy sex. And who is she kidding? She loved every minute of the crazy adventures they've had together.
And out of everything.. one thing is for certain..
Nick wakes up, and smiles at Frodi.
Frodi:
I love you.
Nick:
I love you too.
Their adventures, are far from over.
FADE TO BLACK